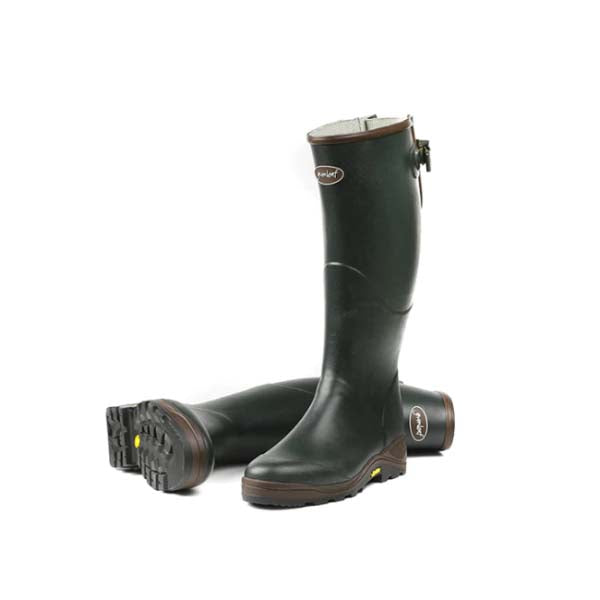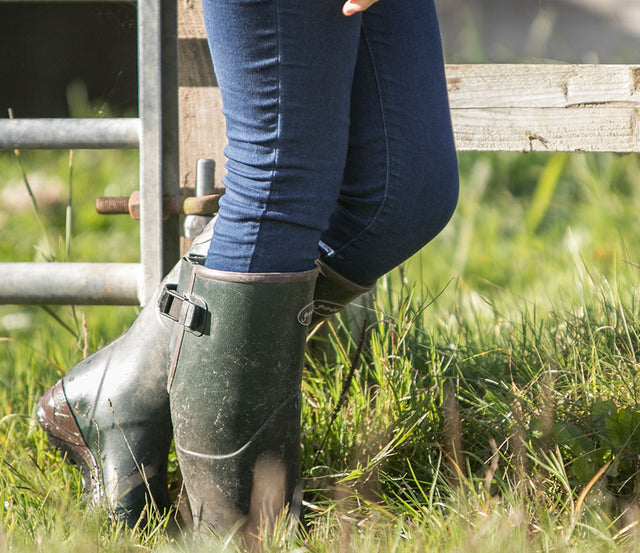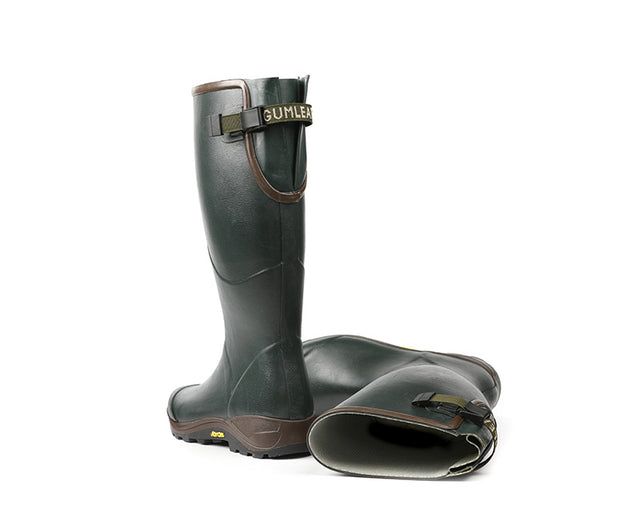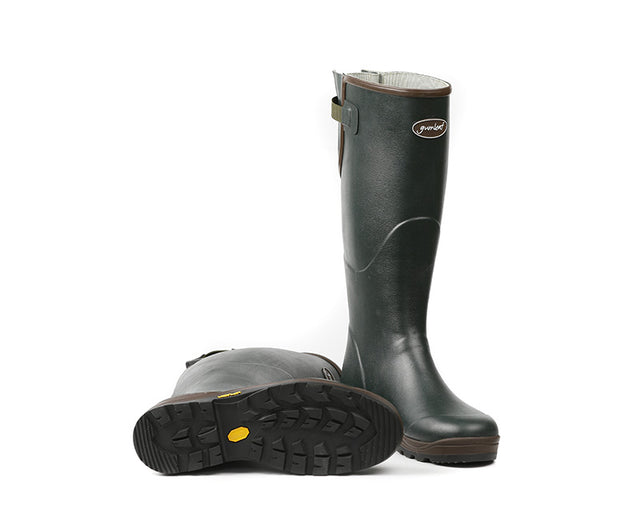 by Gumleaf
Viking Tex Wellington Boot
See Size Chart
Cotton lined boots
The Viking Tex Wide Calf Wellington Boot is durable, comfortable and adjustable.
Cast with a unisex last and offering a generous fit, the large rear vent featured on our Viking Tex Wide Calf accommodates a calf measurement up to 20in/50cm. Being at the rear of the boot, the rear vent keeps the look stylish, neat and discrete when fully opened.
The Viking Tex Wide Calf welly boot is styled in dark green with brown trim and lined throughout with white cotton textile for comfort and breathability. It features a neoprene sole that is stitched in, not glued, so it won't move or come unstuck. All of our boots are handcrafted in natural rubber in our own factory in Europe. This natural rubber gives more grip in slippery conditions for the best in grip and wear. We aim to make the best wellies available and have trialled these for several years. Our Viking Tex Wide Calf Wellington Boots offer great comfort, even in constant use.
Why customers prefer Gumleaf boots

Handmade - crafted by hand for a better and more comfortable fit
Rubber - made from rubber, a natural and sustainable material
Extra comfy - the stitched in neoprene footbed makes every step a pleasure
Vibram® - the award-winning sole for extra grip and performance
Generous fit - large rear vent for the perfect wide calf fit
British design - designed by farmers and tested in the worst British weather 
Ecological - we're doing our bit to reduce carbon - our factories are heated by wood!
What you get when you buy from us
Guaranteed to last - rock solid and guaranteed for one year
No quibble free returns - send your boots back for a full refund or exchange
Free shipping - orders over £120 are delivered free of charge
Free friendly advice - speak to our knowledgeable UK team, always here for you
Unisex sizes 37-47. Available in Dark Green.
Size 39 - calf 43cm - height 42cm - will come 39cm up the leg
Size 44 - calf 45cm - height 44cm - will come 41cm up the leg
Maximum calf measurement up to 50cm